THOMAS M. BUCHANAN, LCDR, USN
From USNA Virtual Memorial Hall
Lucky Bag
The Lucky Bag was first published in 1894.
Biography & Loss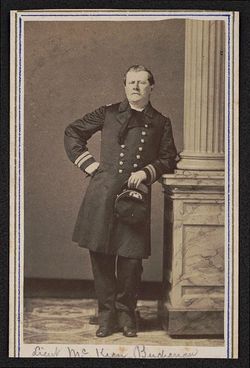 From McKean Genealogies:
Thomas McKean Buchanan, Lieut. Commander U.S.N, born in Bellefonte, Center county, Pa., September 18, 1837. He was appointed an acting midshipman, October 1, 1851, entering the Naval Academy. He stood well in his class and graduated June 9, 1855, becoming a midshipman, and cruised in the Constellation and the Congress in the Mediterranean, July, '55-January, '58. Passed midshipman April 15, 1858; Master, November 4, '58; ordered to take passage to join the steam frigate Merrimac, then in the Pacific.

Lieutenant, July 18, 1860; ordered to the steam frigate Mississippi, April, 1861, in the West Gulf Squadron.

Promoted to be a lieutenant commander, July 16, 1862. He was for a time in command of the steam frigate Mississippi, the gunboat New London, and subsequently commanded the gunboat Calhoun.

Admiral Farragut writes from Pensacola about September, 1862: "Lieutenant Commander McKean Buchanan, with light draft steamers, had been operating successfully in Berwick Bay and Atchafalaya River." And again, from New Orleans, November 14, 1862, to the Secretary of the Navy, he encloses Lieutenant Commander Buchanan's report, saying, "He is commanding the naval forces co-operating with the army in Opelousas, and had already two fights with the enemy's steamers and land forces."

Commodore Buchanan (as he was called by courtesy, on account of his commanding a squadron of vessels), while ascending Bayon Teche, January 14, 1863, on board the Calhoun, he went forward in an exposed position and was at once and object for sharpshooters on the bank. He was soon struck in the head, and fell dead on the deck. He was a brave officer. His daring courage and activity while in command of these light draft steamers made his name widely known throughout that part of the country. Lieutenant Commander died unmarried, and his remains were subsequently sent to Bellefonte, Pa. Admiral Farragut, writing home, mentions his death as follows, January 15th: "Yesterday was a sad day for me. I went to see Banks; he handed me a dispatch from the bar, announcing the loss of the Hatteras. When I came on board I received another, telling me of the death of one of my bravest and most dashing officers, Lieutenant Commander Buchanan."
He is listed on the killed in action panel in the front of Memorial Hall and in the Register of Alumni, though the latter has no date associated with this action. He is buried in Pennsylvania.
One of his brothers was an Army Captain who was killed in action during the war.
Career
From the Naval History and Heritage Command:
Acting Midshipman, 1 October, 1851. Midshipman, 9 June, 1855. Passed Midshipman, 15 April, 1858. Master, 4 November, 1858. Lieutenant, 18 July, 1860. Lieutenant Commander, 5 August, 1862. Died 14 January, 1863.
Thomas is one of 6 members of the Class of 1855 on Virtual Memorial Hall.